Apex – The Next Generation in Sign Stands is Here…
Samantha Skinner
After the long-anticipated wait, APEX – The Next Generation in sign stands has made its appearance on the floors of Eastern Metal Signs and Safety. With many options to choose from, testing that has been ongoing, and a way to really provide your crew with Next-Gen Safety; APEX is where it's at!
MASH Tested & Approved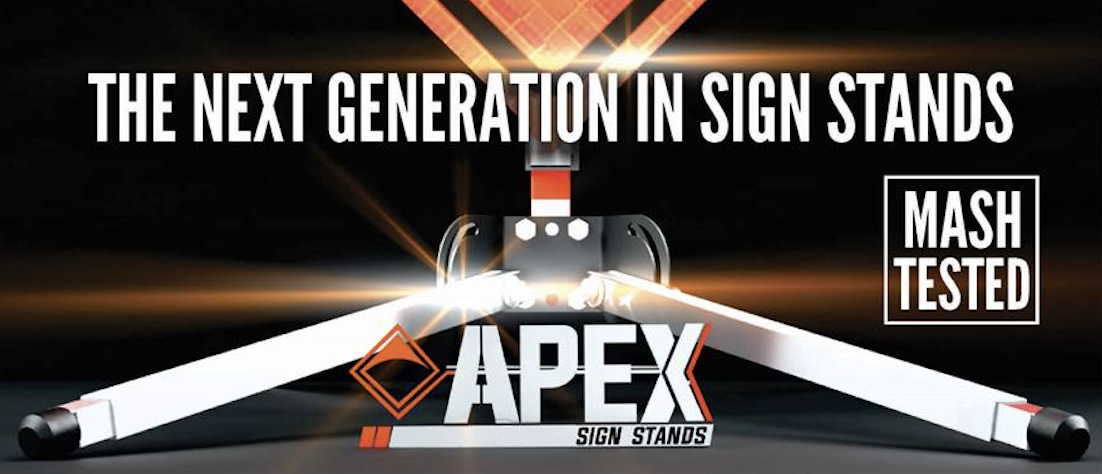 Whether you need a compact stand that pops up and down while on the fly, or if you need something that deflects the wind – APEX has updated, upgraded, and stable systems that work to protect your signs and workers while out in the field.
These stands have been tested against the wind, and when it comes to standing up, providing protection, and ensuring that they last – you get the best of the best. All three come together to work to keep your road crews safe while on the job.
COMPACT MODELS AVAILABLE
WIND AND NON-WIND DEFLECTING MODELS
DUAL COIL OR LEAF SPRING OPTIONS AVAILABLE
LATCH OR SPIN HANDLE DESIGN OPTIONS
Having the right opening and closing mechanisms, along with the way the signs are held on the system can make all the difference while out on the field. Make sure your team is safe but also informed on how to use this rugged, long-lasting, yet easy to set up and take down sign stand.
Paired with our lock pockets on the corners of the roll-up signs; you can be sure that your crew stays safe while they're out on the roadways.
STABLE
DURABLE
RELIABLE
The bases that our signs are held on are the heavier duty with both shorter and extended-sized leg lengths to choose from. You can also choose a standard base, should you want something rugged and built to last, but not as heavy.
JUST LOOK FOR THE ORANGE SPRINGS!
APEX is the Next Generation of sign stands and able to hold roll-ups, you can grab the MASH tested & approved signs that are selling out the door. With safety being an issue, the stands have to hold up.
Let APEX do all of the work for you!
THE OFFICIAL LINE UP
APEX
APEX RECOIL
APEX TRIPOD
APEX DUAL RECOIL
APEX DUAL RECOIL MAX
APEX SUMMIT
Want to learn more about APEX and the line of road safety products we offer here at Eastern Metal Signs and Safety?
Feel free to give us a call at 1-800-872-SIGN or visit our Contact Page to send us an email!