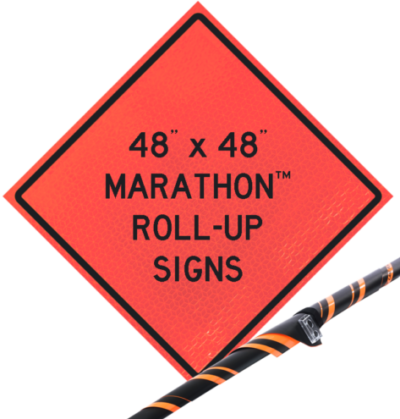 48″ Roll-Up Reflective Sign Marathon™ Xpress program
48″ Roll-Up Reflective Sign Marathon™ Xpress program
48″ Roll-Up Reflective Sign Marathon™ Xpress program
Maximum Qty = 5 each
Description
Brand
Additional information
Description
48″ Roll-Up Reflective Sign Marathon™ Xpress program Includes Four (4) Lexan Corner Pocket and 5/16″ x 1/4″ fiberglass battens (ribs).
Meets MUTCD specifications.
Made in America
Eastern Metal Signs & Safety
48″ Roll-Up Reflective Sign Marathon™ Xpress program
Eastern Metal Signs & Safety Roll-Up signs offer industry-leading and customizing.
• Reflective Vinyl meets retro-reflective standards. provide an early, high-visible warning to motorists
and pedestrians to help prevent infringement into active areas.
• Polished fiberglass vertical batten is riveted directly to the Roll-Up Sign. This assures Eastern Metal brand signs are "always ready" for "fast deployment" .
• Firstly Eastern Metal Signs and Safety Roll-Up Signs will fit on all Eastern Metal Signs and Safety Sign Stands. Secondly all other federally approved sign stands with matching batten and pocket set up.
• Our Roll-Up Warning Signs come in three basic varieties: Standard Roll-Ups, Roll-Up C-Sign, and Rigid Roll-Ups. Each Type is available in a variety of reflective materials, shapes, and sizes.
Meets NCHRP-350 Certification and MUTCD standards. 36" or 48" lightweight roll-up signs that utilize Marathon Fluorescence. With technology to increase sign detection and in low-light conditions. Such as dawn, dusk and overcast days.
Designed with micro-prismatic reflective sheeting bonded to a heavy-duty fiber-reinforced vinyl material. This Therefore this will not de-laminate. And in conclusion will provide outstanding durability, clarity and long sign life. Easier to transport and only weigh 8 lbs.
Sign will not wrinkle or crinkle and will maintain its clarity after multiple uses.
BE PREPARED TO STOP (W3-4) |
Flagger (Symbol) (W20-7) |
ONE LANE ROAD AHEAD (W20-4) |
RIGHT LANE CLOSED AHEAD (W20-5R) (W20-5R) |
ROAD CLOSED AHEAD (W20-3) |
ROAD WORK AHEAD (W20-1) |
SHOULDER WORK AHEAD |
UTILITY WORK AHEAD (W21-7) |
WORKER (Symbol) (W21-1) |
DUAL LANE REDUCTION W/Bar Overlay |
LEFT OVERLAY |
500 FT OVERLAY |
1000 FT OVERLAY |
1500 FT OVERLAY
Brand
Eastern Metal Signs and Safety
Eastern Metal Signs and Safety
Additional information
| | |
| --- | --- |
| Weight | 8 lbs |
| Dimensions | N/A |