[fusion_builder_container hundred_percent="no" hundred_percent_height="no" hundred_percent_height_scroll="no" hundred_percent_height_center_content="yes" equal_height_columns="no" menu_anchor="" hide_on_mobile="small-visibility,medium-visibility,large-visibility" status="published" publish_date="" class="" id="" background_color="" background_image="" background_position="center center" background_repeat="no-repeat" fade="no" background_parallax="none" enable_mobile="no" parallax_speed="0.3″ video_mp4="" video_webm="" video_ogv="" video_url="" video_aspect_ratio="16:9″ video_loop="yes" video_mute="yes" video_preview_image="" border_size="" border_color="" border_style="solid" margin_top="" margin_bottom="" padding_top="" padding_right="" padding_bottom="" padding_left=""][fusion_builder_row][fusion_builder_column type="1_1″ layout="1_1″ spacing="" center_content="no" link="" target="_self" min_height="" hide_on_mobile="small-visibility,medium-visibility,large-visibility" class="" id="" background_color="" background_image="" background_image_id="" background_position="left top" background_repeat="no-repeat" hover_type="none" border_size="0″ border_color="" border_style="solid" border_position="all" border_radius="" box_shadow="no" dimension_box_shadow="" box_shadow_blur="0″ box_shadow_spread="0″ box_shadow_color="" box_shadow_style="" padding_top="" padding_right="" padding_bottom="" padding_left="" margin_top="" margin_bottom="" animation_type="" animation_direction="left" animation_speed="0.3″ animation_offset="" last="no"][fusion_global id="16922″][fusion_content_boxes layout="clean-vertical" columns="1″ title_size="" heading_size="2″ title_color="" body_color="" backgroundcolor="" icon="" iconflip="" iconrotate="" iconspin="no" iconcolor="" icon_circle="" icon_circle_radius="" circlecolor="" circlebordersize="" circlebordercolor="" outercirclebordersize="" outercirclebordercolor="" icon_size="" icon_hover_type="" hover_accent_color="" image="" image_id="" image_max_width="" link_type="" button_span="" link_area="" link_target="" icon_align="left" animation_type="" animation_delay="" animation_offset="" animation_direction="left" animation_speed="0.3″ margin_top="" margin_bottom="" hide_on_mobile="small-visibility,medium-visibility,large-visibility" class="" id=""][fusion_content_box title="Eastern Metal Safety Floor Decals " backgroundcolor="" icon="fa-user-shield fas" iconflip="" iconrotate="" iconspin="no" iconcolor="" circlecolor="" circlebordersize="" circlebordercolor="" outercirclebordersize="" outercirclebordercolor="" image="" image_id="" image_max_width="" link="" linktext="Read More" link_target="" animation_type="" animation_direction="left" animation_speed="0.3″ animation_offset=""]

Use these social distancing floor decals to ensure public health
and safety at grocery stores, checkout lines, and open spaces.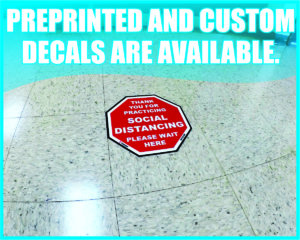 What are Floor Decals?
Floor decals are adhesive graphics made from 3.4 mil vinyl primarily used for advertising purposes in your retail store or business location. Their thin nature and certified slip resistance make them durable enough for foot traffic yet not so thick to be a hazard or nuisance to customers. When you need to social distance, these decals are easy for everyone to follow.
Floor graphics can last up to 3-5 years with proper care but can also be easily removed after a short period of time if needed. This semi-permanent nature makes them perfect for in-store promotions and sales, directional needs, manufacturing and warehouse facilities, and much more.
These custom vinyl floor graphics are easily installed on non-porous surfaces such as hardwood, tile (w/o grout lines underneath), laminate, and sealed concrete. Before installing a floor sticker you should make sure that the surface has been properly cleaned and prepared for the decal. They're perfect when you need social distance.
Custom Printed to Grab Attention
Adhesive Back Floor Graphics

Printed at 600dpi in full color

Textured for Non-Slip finish

Removable adhesive backing
Our custom printed social distance floor decals not only can have your logo on them, but they can ensure that your workplace stays safe. With social distancing rules and laws in place, it is important to keep everyone on the same page. Easy to install, floor decals help to keep everyone a safe distance away from one another.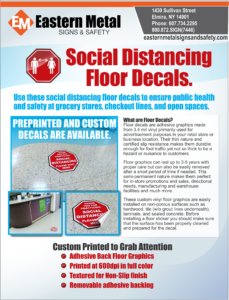 [/fusion_content_box][fusion_content_box title="" backgroundcolor="" icon="" iconflip="" iconrotate="" iconspin="" iconcolor="" circlecolor="" circlebordersize="" circlebordercolor="" outercirclebordersize="" outercirclebordercolor="" image="" image_id="" image_max_width="" link="" linktext="" link_target="" animation_type="" animation_direction="left" animation_speed="0.3″ animation_offset="" /][/fusion_content_boxes][/fusion_builder_column][/fusion_builder_row][/fusion_builder_container]