[fusion_builder_container hundred_percent="no" hundred_percent_height="no" hundred_percent_height_scroll="no" hundred_percent_height_center_content="yes" equal_height_columns="no" menu_anchor="" hide_on_mobile="small-visibility,medium-visibility,large-visibility" status="published" publish_date="" class="" id="" background_color="" background_image="" background_position="center center" background_repeat="no-repeat" fade="no" background_parallax="none" enable_mobile="no" parallax_speed="0.3″ video_mp4="" video_webm="" video_ogv="" video_url="" video_aspect_ratio="16:9″ video_loop="yes" video_mute="yes" video_preview_image="" border_size="" border_color="" border_style="solid" margin_top="" margin_bottom="" padding_top="" padding_right="" padding_bottom="" padding_left=""][fusion_builder_row][fusion_builder_column type="1_1″ layout="1_1″ spacing="" center_content="no" link="" target="_self" min_height="" hide_on_mobile="small-visibility,medium-visibility,large-visibility" class="" id="" background_color="" background_image="" background_image_id="" background_position="left top" background_repeat="no-repeat" hover_type="none" border_size="0″ border_color="" border_style="solid" border_position="all" border_radius="" box_shadow="no" dimension_box_shadow="" box_shadow_blur="0″ box_shadow_spread="0″ box_shadow_color="" box_shadow_style="" padding_top="" padding_right="" padding_bottom="" padding_left="" margin_top="" margin_bottom="" animation_type="" animation_direction="left" animation_speed="0.3″ animation_offset="" last="no"][fusion_title hide_on_mobile="small-visibility,medium-visibility,large-visibility" class="" id="" content_align="left" size="2″ font_size="" line_height="" letter_spacing="" margin_top="" margin_bottom="" margin_top_mobile="" margin_bottom_mobile="" text_color="" style_type="default" sep_color=""]
SAFETY BARRICADE SYSTEMS
[/fusion_title][fusion_imageframe image_id="17439|full" max_width="" style_type="" blur="" stylecolor="" hover_type="none" bordersize="" bordercolor="" borderradius="" align="none" lightbox="no" gallery_id="" lightbox_image="" lightbox_image_id="" alt="" link="" linktarget="_self" hide_on_mobile="small-visibility,medium-visibility,large-visibility" class="" id="" animation_type="" animation_direction="left" animation_speed="0.3″ animation_offset=""]https://easternmetalsignsandsafety.com/wp-content/uploads/2020/06/barricade.png[/fusion_imageframe][fusion_builder_row_inner][fusion_builder_column_inner type="3_4″ layout="3_4″ spacing="" center_content="no" hover_type="none" link="" target="_self" min_height="" hide_on_mobile="small-visibility,medium-visibility,large-visibility" class="" id="" background_color="" background_image="" background_position="left top" undefined="" background_repeat="no-repeat" border_size="0″ border_color="" border_style="solid" border_position="all" border_radius_top_left="" border_radius_top_right="" border_radius_bottom_left="" border_radius_bottom_right="" box_shadow="no" box_shadow_vertical="" box_shadow_horizontal="" box_shadow_blur="0″ box_shadow_spread="0″ box_shadow_color="" box_shadow_style="" padding_top="20″ padding_right="" padding_bottom="" padding_left="" margin_top="" margin_bottom="" animation_type="" animation_direction="left" animation_speed="0.3″ animation_offset="" last="no"][fusion_content_boxes layout="icon-with-title" columns="1″ title_size="" heading_size="2″ title_color="" body_color="" backgroundcolor="" icon="" iconflip="" iconrotate="" iconspin="no" iconcolor="" icon_circle="" icon_circle_radius="" circlecolor="" circlebordersize="" circlebordercolor="" outercirclebordersize="" outercirclebordercolor="" icon_size="" icon_hover_type="" hover_accent_color="" image="" image_id="" image_max_width="" link_type="" button_span="" link_area="" link_target="" icon_align="left" animation_type="" animation_delay="" animation_offset="" animation_direction="left" animation_speed="0.3″ margin_top="" margin_bottom="" hide_on_mobile="small-visibility,medium-visibility,large-visibility" class="" id=""][fusion_content_box title="Features & Benefits:" backgroundcolor="" icon="" iconflip="" iconrotate="" iconspin="no" iconcolor="" circlecolor="" circlebordersize="" circlebordercolor="" outercirclebordersize="" outercirclebordercolor="" image="" image_id="" image_max_width="" link="" linktext="Read More" link_target="" animation_type="" animation_direction="left" animation_speed="0.3″ animation_offset=""]
Safety Barricades
Eastern Metal safety barricades are an advanced one-piece, seamless plastic product that serves as a means of diverting, securing, and blocking the flow of oncoming pedestrians, vehicles, ballistics, and other potentially dangerous encounters. The safety barricades are designed to be stronger and more durable than our competitors, yet still be cosmetically pleasing. That, combined with our customer-oriented focus, makes us the premier barrier supplier in the industry.
Corrosion resistant – won't crack or decay
Quick Installation and easy relocation
Customizable configurations – adapts to any size requirements
Lightweight, yet heavy duty interlocking design
Durable and impact resistant
Easily combined with flexible liners
Ballast-able with water or sand
Composed of recyclable material
Deployable by one or two people
Forklift accessible, but no heavy equipment required!
Our safety barricade system consists of specialty barricades that are superior in strength and quality to the competition. We use a superior rotationally molded process using recyclable polyethylene. This allows our barricades to be lightweight and impact resistant.
[/fusion_content_box][fusion_content_box title="" backgroundcolor="" icon="" iconflip="" iconrotate="" iconspin="" iconcolor="" circlecolor="" circlebordersize="" circlebordercolor="" outercirclebordersize="" outercirclebordercolor="" image="" image_id="" image_max_width="" link="" linktext="" link_target="" animation_type="" animation_direction="left" animation_speed="0.3″ animation_offset=""]

Full Safety Barricade Systems and Accessories
Available Upon Request
[/fusion_content_box][/fusion_content_boxes][/fusion_builder_column_inner][fusion_builder_column_inner type="1_4″ layout="1_4″ spacing="" center_content="no" hover_type="none" link="" target="_self" min_height="" hide_on_mobile="small-visibility,medium-visibility,large-visibility" class="" id="" background_color="" background_image="" background_position="left top" undefined="" background_repeat="no-repeat" border_size="0″ border_color="" border_style="solid" border_position="all" border_radius_top_left="" border_radius_top_right="" border_radius_bottom_left="" border_radius_bottom_right="" box_shadow="no" box_shadow_vertical="" box_shadow_horizontal="" box_shadow_blur="0″ box_shadow_spread="0″ box_shadow_color="" box_shadow_style="" padding_top="20″ padding_right="" padding_bottom="" padding_left="" margin_top="" margin_bottom="" animation_type="" animation_direction="left" animation_speed="0.3″ animation_offset="" last="no"][fusion_content_boxes layout="icon-with-title" columns="1″ title_size="" heading_size="2″ title_color="" body_color="" backgroundcolor="" icon="" iconflip="" iconrotate="" iconspin="no" iconcolor="" icon_circle="" icon_circle_radius="" circlecolor="" circlebordersize="" circlebordercolor="" outercirclebordersize="" outercirclebordercolor="" icon_size="" icon_hover_type="" hover_accent_color="" image="" image_id="" image_max_width="" link_type="" button_span="" link_area="" link_target="" icon_align="left" animation_type="" animation_delay="" animation_offset="" animation_direction="left" animation_speed="0.3″ margin_top="" margin_bottom="" hide_on_mobile="small-visibility,medium-visibility,large-visibility" class="" id=""][fusion_content_box title="Applications:" backgroundcolor="" icon="" iconflip="" iconrotate="" iconspin="no" iconcolor="" circlecolor="" circlebordersize="" circlebordercolor="" outercirclebordersize="" outercirclebordercolor="" image="" image_id="" image_max_width="" link="" linktext="Read More" link_target="" animation_type="" animation_direction="left" animation_speed="0.3″ animation_offset=""]Force Protection
Special Events
Crowd Control
Gate Approaches
Anti-Terrorism
Guard Units
Border Patrol
Construction Zones
Airports
Traffic Control
Air Shows
Race Tracks
Parking Lots
Perimeter Protection
Containment System
Recreational Use
Flight Line[/fusion_content_box][/fusion_content_boxes][/fusion_builder_column_inner][/fusion_builder_row_inner][fusion_builder_row_inner][fusion_builder_column_inner type="1_2″ layout="1_2″ spacing="" center_content="no" hover_type="none" link="" target="_self" min_height="" hide_on_mobile="small-visibility,medium-visibility,large-visibility" class="" id="" background_color="" background_image="" background_position="left top" background_repeat="no-repeat" border_size="0″ border_color="" border_style="solid" border_position="all" border_radius="" box_shadow="no" dimension_box_shadow="" box_shadow_blur="0″ box_shadow_spread="0″ box_shadow_color="" box_shadow_style="" padding_top="" padding_right="" padding_bottom="" padding_left="" dimension_margin="" animation_type="" animation_direction="left" animation_speed="0.3″ animation_offset="" last="no"][fusion_content_boxes layout="icon-with-title" columns="1″ title_size="" heading_size="2″ title_color="" body_color="" backgroundcolor="" icon="" iconflip="" iconrotate="" iconspin="no" iconcolor="" icon_circle="" icon_circle_radius="" circlecolor="" circlebordersize="" circlebordercolor="" outercirclebordersize="" outercirclebordercolor="" icon_size="" icon_hover_type="" hover_accent_color="" image="" image_id="" image_max_width="" link_type="" button_span="" link_area="" link_target="" icon_align="left" animation_type="" animation_delay="" animation_offset="" animation_direction="left" animation_speed="0.3″ margin_top="" margin_bottom="" hide_on_mobile="small-visibility,medium-visibility,large-visibility" class="" id=""][fusion_content_box title="Your Content Goes Here" backgroundcolor="" icon="" iconflip="" iconrotate="" iconspin="no" iconcolor="" circlecolor="" circlebordersize="" circlebordercolor="" outercirclebordersize="" outercirclebordercolor="" image="" image_id="" image_max_width="" link="" linktext="Read More" link_target="" animation_type="" animation_direction="left" animation_speed="0.3″ animation_offset=""]

[/fusion_content_box][/fusion_content_boxes][/fusion_builder_column_inner][fusion_builder_column_inner type="1_2″ layout="1_2″ spacing="" center_content="no" hover_type="none" link="" target="_self" min_height="" hide_on_mobile="small-visibility,medium-visibility,large-visibility" class="" id="" background_color="" background_image="" background_position="left top" background_repeat="no-repeat" border_size="0″ border_color="" border_style="solid" border_position="all" border_radius="" box_shadow="no" dimension_box_shadow="" box_shadow_blur="0″ box_shadow_spread="0″ box_shadow_color="" box_shadow_style="" padding_top="" padding_right="" padding_bottom="" padding_left="" dimension_margin="" animation_type="" animation_direction="left" animation_speed="0.3″ animation_offset="" last="no"][fusion_content_boxes layout="icon-with-title" columns="1″ title_size="" heading_size="2″ title_color="" body_color="" backgroundcolor="" icon="" iconflip="" iconrotate="" iconspin="no" iconcolor="" icon_circle="" icon_circle_radius="" circlecolor="" circlebordersize="" circlebordercolor="" outercirclebordersize="" outercirclebordercolor="" icon_size="" icon_hover_type="" hover_accent_color="" image="" image_id="" image_max_width="" link_type="" button_span="" link_area="" link_target="" icon_align="left" animation_type="" animation_delay="" animation_offset="" animation_direction="left" animation_speed="0.3″ margin_top="" margin_bottom="" hide_on_mobile="small-visibility,medium-visibility,large-visibility" class="" id=""][fusion_content_box title="SPECIFICATIONS:" backgroundcolor="" icon="" iconflip="" iconrotate="" iconspin="no" iconcolor="" circlecolor="" circlebordersize="" circlebordercolor="" outercirclebordersize="" outercirclebordercolor="" image="" image_id="" image_max_width="" link="" linktext="Read More" link_target="" animation_type="" animation_direction="left" animation_speed="0.3″ animation_offset=""]
Composition: UV-Resistant Polyethylene
Size: Height: 42" / 1067 mm
Length: 72" / 1829 mm
Width: 24" / 610 mm
Wall Thickness:
100: .250" / 6.35mm(avg.)
130: .365" / 9.27mm(avg.)
170: .440" / 11.18mm(avg.)
42" x 72" Safety Barricade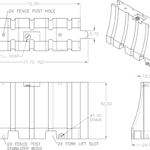 [/fusion_content_box][/fusion_content_boxes][/fusion_builder_column_inner][/fusion_builder_row_inner][fusion_builder_row_inner][fusion_builder_column_inner type="1_2″ layout="1_2″ spacing="" center_content="no" hover_type="none" link="" target="_self" min_height="" hide_on_mobile="small-visibility,medium-visibility,large-visibility" class="" id="" background_color="" background_image="" background_position="left top" background_repeat="no-repeat" border_size="0″ border_color="" border_style="solid" border_position="all" border_radius="" box_shadow="no" dimension_box_shadow="" box_shadow_blur="0″ box_shadow_spread="0″ box_shadow_color="" box_shadow_style="" padding_top="" padding_right="" padding_bottom="" padding_left="" dimension_margin="" animation_type="" animation_direction="left" animation_speed="0.3″ animation_offset="" last="no"][fusion_content_boxes layout="icon-with-title" columns="1″ title_size="" heading_size="2″ title_color="" body_color="" backgroundcolor="" icon="" iconflip="" iconrotate="" iconspin="no" iconcolor="" icon_circle="" icon_circle_radius="" circlecolor="" circlebordersize="" circlebordercolor="" outercirclebordersize="" outercirclebordercolor="" icon_size="" icon_hover_type="" hover_accent_color="" image="" image_id="" image_max_width="" link_type="" button_span="" link_area="" link_target="" icon_align="left" animation_type="" animation_delay="" animation_offset="" animation_direction="left" animation_speed="0.3″ margin_top="" margin_bottom="" hide_on_mobile="small-visibility,medium-visibility,large-visibility" class="" id=""][fusion_content_box title="24" x 96" Safety Barricade" backgroundcolor="" icon="" iconflip="" iconrotate="" iconspin="no" iconcolor="" circlecolor="" circlebordersize="" circlebordercolor="" outercirclebordersize="" outercirclebordercolor="" image="" image_id="" image_max_width="" link="" linktext="Read More" link_target="" animation_type="" animation_direction="left" animation_speed="0.3″ animation_offset=""]


[/fusion_content_box][/fusion_content_boxes][/fusion_builder_column_inner][fusion_builder_column_inner type="1_2″ layout="1_2″ spacing="" center_content="no" hover_type="none" link="" target="_self" min_height="" hide_on_mobile="small-visibility,medium-visibility,large-visibility" class="" id="" background_color="" background_image="" background_position="left top" background_repeat="no-repeat" border_size="0″ border_color="" border_style="solid" border_position="all" border_radius="" box_shadow="no" dimension_box_shadow="" box_shadow_blur="0″ box_shadow_spread="0″ box_shadow_color="" box_shadow_style="" padding_top="" padding_right="" padding_bottom="" padding_left="" dimension_margin="" animation_type="" animation_direction="left" animation_speed="0.3″ animation_offset="" last="no"][fusion_content_boxes layout="icon-with-title" columns="1″ title_size="" heading_size="2″ title_color="" body_color="" backgroundcolor="" icon="" iconflip="" iconrotate="" iconspin="no" iconcolor="" icon_circle="" icon_circle_radius="" circlecolor="" circlebordersize="" circlebordercolor="" outercirclebordersize="" outercirclebordercolor="" icon_size="" icon_hover_type="" hover_accent_color="" image="" image_id="" image_max_width="" link_type="" button_span="" link_area="" link_target="" icon_align="left" animation_type="" animation_delay="" animation_offset="" animation_direction="left" animation_speed="0.3″ margin_top="" margin_bottom="" hide_on_mobile="small-visibility,medium-visibility,large-visibility" class="" id=""][fusion_content_box title="SPECIFICATIONS:" backgroundcolor="" icon="" iconflip="" iconrotate="" iconspin="no" iconcolor="" circlecolor="" circlebordersize="" circlebordercolor="" outercirclebordersize="" outercirclebordercolor="" image="" image_id="" image_max_width="" link="" linktext="Read More" link_target="" animation_type="" animation_direction="left" animation_speed="0.3″ animation_offset=""]
Composition: UV-Resistant Polyethylene
Size: Height: 24" / 610 mm
Length: 96" / 2438 mm
Width: 16" / 407 mm
[/fusion_content_box][/fusion_content_boxes][/fusion_builder_column_inner][/fusion_builder_row_inner][fusion_content_boxes layout="icon-with-title" columns="1″ title_size="" heading_size="2″ title_color="" body_color="" backgroundcolor="" icon="" iconflip="" iconrotate="" iconspin="no" iconcolor="" icon_circle="" icon_circle_radius="" circlecolor="" circlebordersize="" circlebordercolor="" outercirclebordersize="" outercirclebordercolor="" icon_size="" icon_hover_type="" hover_accent_color="" image="" image_id="" image_max_width="" link_type="" button_span="" link_area="" link_target="" icon_align="left" animation_type="" animation_delay="" animation_offset="" animation_direction="left" animation_speed="0.3″ margin_top="" margin_bottom="" hide_on_mobile="small-visibility,medium-visibility,large-visibility" class="" id=""][fusion_content_box title="" backgroundcolor="" icon="" iconflip="" iconrotate="" iconspin="no" iconcolor="" circlecolor="" circlebordersize="" circlebordercolor="" outercirclebordersize="" outercirclebordercolor="" image="" image_id="" image_max_width="" link="" linktext="Read More" link_target="" animation_type="" animation_direction="left" animation_speed="0.3″ animation_offset=""]
Safety_Barricade_Systems

[/fusion_content_box][/fusion_content_boxes][/fusion_builder_column][/fusion_builder_row][/fusion_builder_container]