STOP/SLOW Paddle – LED
LED STOP/SLOW Paddle – Flagger Helper
Choose between 18″ and 24″ size
Available in Engineer Grade, Hi-Intensity, and Diamond Grade Reflective sheeting.
Description
Brand
Additional information
Reviews (2)
LED Stop Slow Paddles and Staff
Description
STOP/SLOW Paddle – LED
Dual LED STOP/SLOW Flagger Helpers STOP/SLOW Paddle – LED are made of ABS Plastic, and comes in both 18″ and 24″ sizes and several reflective sheeting options. Choose from a 2-part PVC staff (12″ handle & 60″ or 72″ staff), or a non-retractable 60″ staff.
Requires 3 C-Batteries, not included.
Made in America
What Can I do to keep Flaggers safe?
Buy them time
Conspicuous sheeting
Bright LED alternating flashing lights embedded in the signs
Get Drivers attention as far away as possible
Get drivers stopping distance
Use a staff to get the sign to a height that drivers will react to sooner
Hi-visibility gear and materials
Retr0-reflective sheeting
Roll-ups vinyl signs that are rated for the time of day you will be using them.
The LED alerts drivers sooner so they have more time to stop before getting to the work zone. Driver distraction is a huge problem and the LED Alert helps to give drivers visual cues that there is something ahead at a more safe distance from your personnel.
STOP/SLOW Paddle – LED Features:
stop slow paddles with led lights
Sturdy Construction
Battery Operated with Long Battery life
Added Safety
retro-reflective stop slow paddles
illuminated stop slow paddles
Adding an LED to a flagger sign is your best choice for everyone's safety.  Crossing guard stop signs also keep your kids safe in high traffic areas.
LED stands for light emitting diode. LED lighting products produce light approximately 90% more efficiently than incandescent light bulbs. How do they work? An electrical current passes through a microchip, which illuminates the tiny light sources we call LEDs and the result is visible light. To prevent performance issues, the heat LED's produce is absorbed into a heat sink.
Sales offices all over America and one of the largest manufacturing facilities for traffic safety equipment.  We can offer top shelf service, fast shipping and unparalleled customer service. Call and speak to one of our representatives to order or set up an demo where available.
These stop paddles are life savers by buying you early alert, increased stopping time, and lightweight ergonomics for your work zone employees. The LED stop paddle is manufactured and distributed by Eastern Metal and is sold all over America.
Brand
Eastern Metal Signs and Safety
Eastern Metal Signs and Safety
Additional information
| | |
| --- | --- |
| Weight | 12 lbs |
| Dimensions | N/A |
| Staff | Non-Retractable 60" |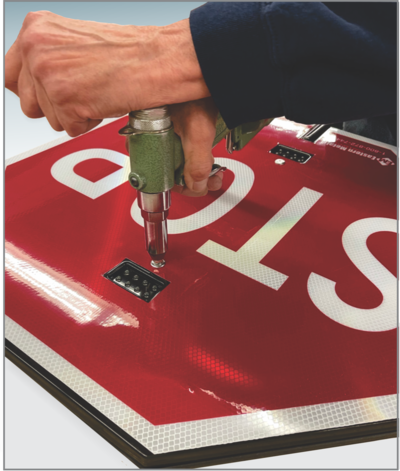 We Manufacture our LED Stop Slow Paddles in house.

Made in the USA with high quality materials and sheeting.
Stringent manufacturing guidelines, Top Quality hardware and circuitry.