Delineators
Eastern Metal manufactures delineators in many shapes, sizes and reflective materials to meet various state and local requirements. We can meet your specifications.
Super Hi-Visibility aluminum delineators feature Reflexite® AP-1000 super hi-visibility surfaces. All delineators are .063″aluminum. Specify reflective color: white, yellow, amber, or red.
Standard shapes or custom shapes
Polycarbonite or aluminum substrate
Reflective sheeting stand colors white yellow orange, red
Custom colors available.
Delineator Discs
Item Code: D-611-HIP/PC(sf) –
Single-sided reflector
Overall size: 3-1/4″ diameter
1/4″ center hole
Reflective display: 3-1/4″ diameter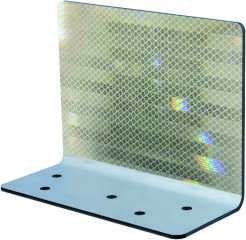 Barrier-Mount Delineators
Item Code: D-661-(mutiple specs available)
Single-sided reflector
Item Code: D-662-(mutiple specs available) –
Double-sided reflector
Face: 4-1/2″w x 3-1/2″ h
Base: 4-1/2″x 2″ (with five 1/4″ holes)
Reflective display: 4-1/4″ w x 3″ h
Post-Mount Delineators
Item Code: D-621-HIP/PC(sf) –
Single-sided reflector
Item Code: D-622-HIP/PC(df) –
Double-sided reflector
Face: 3-1/4″w x 9-1/2″ h (with 3/4″x 1-3/4″ slot)
Reflective display: 3″w x 4-1/4″ h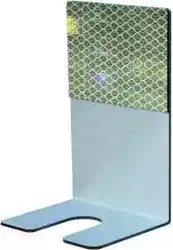 Barrier-Mount Delineators
Item Code: D-671-(mutiple specs available)
Single-sided reflector
Item Code: D-672-(mutiple specs available)-
Double-sided reflector
Face: 3-1/4″w x 6-7/8″ h
Base: 3-1/4″x 2-7/8″ (with 3/4″x 1-3/4″ slot)
Reflective display: 3″ w x 4-1/4″ h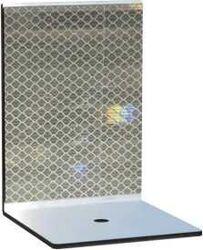 Barrier-Mount Delineators
Item Code: D-631-HIP/PC(sf) –
Single-sided reflector
Item Code: D-632-HIP/PC(df) –
Double-sided reflector
Face: 3-1/8″w x 4-1/8″ h
Base: 3-1/8″x 2-1/8″ (with two 1/4″ holes)
Reflective display: 3″w x 3″ h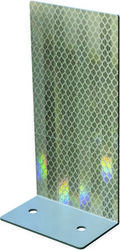 Barrier-Mount Delineators
Item Code: D-681- (mutiple specs available)
Single-sided reflector
Item Code: D-682-(mutiple specs available)
Double-sided reflector
Face: 4-3/4″w x 9-1/2″ h
Base: 4-3/4″x 2-3/4″ (with two 1/4″ holes)
Reflective display: 4-1/2″w x 7-7/8″ h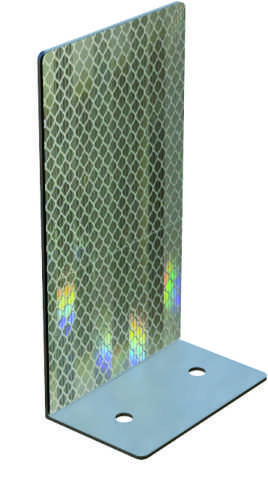 Barrier-Mount Delineators
Item Code: D-641-DGW/PC(sf)
Single-sided reflector
Item Code: D-641-HIP/PC(sf)
Single-sided reflector
Item Code: D-642-HIP/PC(df)
Double-sided reflector
Face: 4-3/4″w x 8-1/2″ h
Base: 4-3/4″x 2-3/4″ (with two 1/4″ holes)
Reflective display: 4-1/2″w x 7-7/8″ h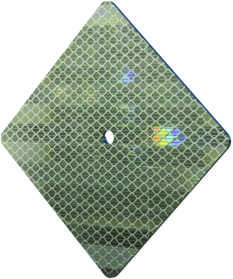 3″x 3″ Aluminum Delineators
Item Code: D-3x3x063-_ /AL __
(specify reflective sheeting)
Single-sided reflector
Face: 3″w x 3″ h (with 1/4″ center hole)
Reflective display: 3″w x 3″ h
Guard-Rail Mount Delineators
Item Code: D-651-(mutiple specs available) –
Single-sided reflector
Item Code: D-652-(mutiple specs available) –
Double-sided reflector
Face: 5-1/4″w x 3-1/4″h
Face Base: 1-3/4″x 3-1/8″ (with 3/4″x 1-3/4″ slot)
Reflective display: Trapezoidal reflective surfaces
(10 square inches minimum reflective per side)

3″x 9″ Aluminum Delineators
Item Code: D-3x9x063-EG/AL
Single-sided reflector
Face: 3″w x 9″ h (with two 1/4″ holes)
Reflective display: 3″w x 9″ h