Type III Barricades Assembly Instructions
Type III Barricades Assembly Instructions typically used for a type 3 barricade. Refer to your own state regulations and the mutcd to assure complete compliance with the setup.

1. PLACE PLATE AGAINST THE RAIL, LINED UP TO THE HOLES.
2. SLIDE BOLTS INTO HOLES OF 2"X2"X60" TUBE AT APPROXIMATELY CENTER POSITION.
3. PLACE OTHER SIDE PLATE OVER BOLTS AND FINGER TIGHTEN NUTS.
4. SLIDE 1-3/4 SQ TUBE INTO 2" SQ TUBE AND LINE UP HOLES WITH MIDDLE HOLE OF SIDE PLATES.
5. INSERT 2 1/4" CARRIAGE BOLTS INTO SLOTS OF SIDE PLATE AND TIGHTEN NUTS.
6. TIGHTEN ALL REMAINING NUT
Type 3 Barricade
Type III barricades from Eastern Metal
Type III Hardware Profile
Hardware that typically comes with Type III Barricade
Type III Barricades Assembly Instructions
(2) Complete Sets (for two legs)
INCLUDES:
(4) hex bolts, 3/8″ x 3″
(4) 3/8″ nuts
(4) carriage bolts, 1/4″ x 3″
(4) 1/4″ nuts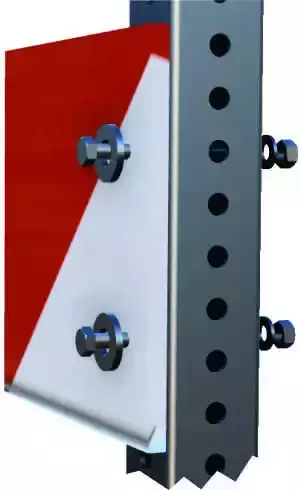 3
While the MUTCD does not designate crash worthy moun
ting systems, at least three FHWA
Acceptance letters, WZ-40, WZ-44, and WZ-55, provid
e details for such a mounting system. The
list of FHWA Acceptance Letters for Traffic Control
Devices can be viewed at
http://safety.fhwa.dot.gov/roadway_dept/policy_guid
e/road_hardware/listing.cfm?code=work
zone
. National Highway Cooperative Research Program (N
CHRP) Report 553 also discusses
mounting signs on barricades.
Most all rails on barricades used on MDT projects a
re constructed with plastic or some type of
lightweight material. This material can fracture o
n impact and, therefore, can permit the sign
panel to release. The panel then has the possibili
ty of striking the windshield of the impacting
vehicle. Signs up to 10 square feet must be bolted
to the top rail, this would include the ROAD
CLOSED and the detour arrow signs. Signs 16 square
feet and over must be bolted to the rails
and both upright supports. Signs may be mounted on
a separate crashworthy support and
must be placed behind the barricade.
Signs Mounted Separately Behind Barricades
The most common method of using signs with barricad
es is to mount the sign on a crash worthy
device and place the unit behind the barricade. On
e advantage of this system is that both the
barricade and the manner in which the sign is mount
ed are both crash worthy. Another
advantage is that the barricade does not become top
-heavy and tip over in high wind areas.
Also, the adjustment of the sign height is easy for
use in rural areas and urban and interstate
highway areas.