MUTCD Roll Up Work Zone Signs From Eastern Metal Manufacturing Traffic Safety Equipment for over 75 years.
Visit our Traffic Safety Store. 
Features
Full range of sizes and materials are available
Meets MUTCD Roll-Up requirements
Full range of standard legends, plus custom legends upon request
Made of high-quality retro-reflective and non-reflective materials
Various pocket choices specific to your project
Proudly constructed in America

MUTCD Roll Up Signs Materials
– Non-reflective Mesh
– Non-reflective Vinyl
– Reflective Vinyl
Non-Reflective Roll ups are meant strictly for daytime use only.  Highly discouraged from using these in dark or non-lighted conditions.   Our retro-reflective materials are much brighter for low light conditions offering early awareness to drivers.
36 and 48 inches-  The size roll-up you need will depend on where it is used. MUTCD guidelines have 36″ for streets but 48″ should be used on highways. If the legend denotes important changes to the road (like road closed, detour, bridge out etc.) 48″ is the preferred size.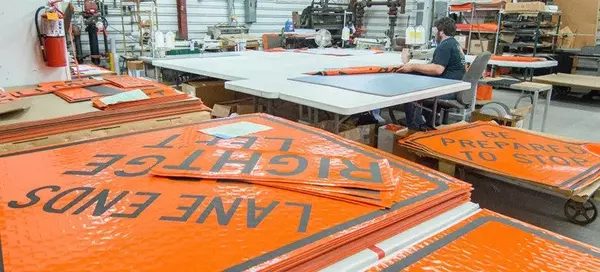 Work Zone Signs  Holders/Stands
Choose between tripod, spring base sign stands, guard rail stands, and handheld paddles.
Your choice of sign holder will be dependent on the roll-up you choose and the location where it is used.
You will also want to consider the height that you need for the roll-up to be.
All of our roll ups are made in-house, and shipped straight from our warehouses in the United States. Use our XPress program for faster production and shipping times.