Features
ABS Stop Slow Paddles with PVC handle and support staff are lightweight, non-conductive, and rugged.
Fixed 12" handle couples with optional 60" or 72" Staff to provide 72" or 84" total clearance.
Staff attaches easily with a Quik-Snap™ button – No cross-threading or broken couplings.
Support staff minimizes operator fatigue and increases visibility, improving operator safety.
18" and 24" Paddles available in many reflective combinations.
Federal and state regulations determine appropriate paddle size and reflectivity requirements.
flagger equipment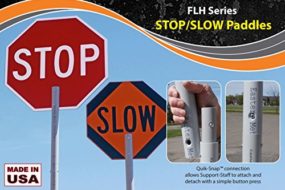 Flagger-Helper™ Paddle Accessories
Flagger Paddle Model # Desc.
FLH-60-STAFF 60" Support Staff for FLH Series Paddles
FLH-72-STAFF 72" Support Staff for FLH Series Paddles
FLH-18-SV-COVER 18" Sign-Velope™ Storage Cover
FLH-24-SV-COVER 24" Sign-Velope™ Storage Cover
[pdf-embedder url="https://easternmetalsignsandsafety.com/wp-content/uploads/2022/03/flh-literature.pdf" title="flagger helper flagger staff"
18" Flagger-Helper™ STOP/SLOW Paddles
| | | | | |
| --- | --- | --- | --- | --- |
| Model No. | REFLECTIVE STOP-Side | REFLECTIVE SLOW-Side | Handle  | Staff  |
| FLH-1812-EG | EG | EG | 12" | NO STAFF |
| FLH-1812-HI | HI | HI | 12" | NO STAFF |
| FLH-1812-HI/DG | HI | DG | 12" | NO STAFF |
| FLH-1812-DG | DG | DG | 12" | NO STAFF |
| FLH-1872-EG | EG | EG | 12" | 60" |
| FLH-1812-HI | HI | HI | 12" | 60" |
| FLH-1812-HI/DG | HI | DG | 12" | 60" |
| FLH-1872-DG | DG | DG | 12" | 60" |
| FLH-1884-EG | EG | EG | 12" | 72" |
| FLH-1884-HI | HI | HI | 12" | 72" |
| FLH-1884-HI/DG | HI | DG | 12" | 72" |
| FLH-1884-DG | DG | DG | 12" | 72" |
24" Flagger-Helper™ STOP/SLOW
Model No.

REFLECTIVE

STOP-Side

REFLECTIVE

SLOW-Side

Handle 
Staff 
FLH-2412-EG
EG
EG
12"
NO STAFF
FLH-2412-HI
HI
HI
12"
NO STAFF
FLH-2412-HI/DG
HI
DG
12"
NO STAFF
FLH-2412-DG
DG
DG
12"
NO STAFF
FLH-2472-EG
EG
EG
12"
60"
FLH-2472-HI
HI
HI
12"
60"
FLH-2472-HI/DG
HI
DG
12"
60"
FLH-2472-DG
DG
DG
12"
60"
FLH-2484-EG
EG
EG
12"
72"
FLH-2484-HI
HI
HI
12"
72"
FLH-2484-HI/DG
HI
DG
12"
72"
FLH-2484-DG
DG
DG
12"
72"