Stop and Slow Paddles
EMS
[fusion_builder_container hundred_percent="no" equal_height_columns="no" menu_anchor="" hide_on_mobile="small-visibility,medium-visibility,large-visibility" class="" id="" background_color="" background_image="" background_position="center center" background_repeat="no-repeat" fade="no" background_parallax="none" parallax_speed="0.3″ video_mp4="" video_webm="" video_ogv="" video_url="" video_aspect_ratio="16:9″ video_loop="yes" video_mute="yes" overlay_color="" video_preview_image="" border_size="" border_color="" border_style="solid" padding_top="" padding_bottom="" padding_left="" padding_right=""][fusion_builder_row][fusion_builder_column type="1_1″ layout="1_1″ background_position="left top" background_color="" border_size="" border_color="" border_style="solid" border_position="all" spacing="yes" background_image="" background_repeat="no-repeat" padding_top="" padding_right="" padding_bottom="" padding_left="" margin_top="0px" margin_bottom="0px" class="" id="" animation_type="" animation_speed="0.3″ animation_direction="left" hide_on_mobile="small-visibility,medium-visibility,large-visibility" center_content="no" last="no" min_height="" hover_type="none" link=""][fusion_text]
Stop and Slow Paddles put safety in the work zone. More over most traffic control
regulations require the use of a stop/slow paddle or
flagger-helper when performing work on non-highway
locations. Our Flagger-Helpers ™ help operators
to direct motorists.
The paddle sizes and reflectivity option that conform with federal and state
requirements. In addition, we have designed them
with the flagger in mind, with a Quik-Snap ™ button,
and a lightweight, rugged PVC handle and support
staff minimizing operator fatigue.
Going one step further, with the invention of
the Visual-AlertTM LED Paddle. The flashing LEDs
provide an added warning that alerts drivers earlier,
regardless of lighting and weather conditions. The 18"
and 24" paddles are available in Hi-Intensity, Diamond
Grade configurations and operate for many hours on
household "C" batteries.
Do not hesitate to contact our sales team if you have questions.
ABS Paddles with retractable Staff are lightweight, non-conductive, and rugged.
Staff Extends from 51" to 84 1/2" to bottom of the sign.
Staff minimizes operator fatigue and increases visibility, improving operator safety.
18" and 24" Paddles available with ANY reflective combination.
You can see the LED in the distance giving the driver that much more stopping time and distance
Federal &State regulations determine appropriate paddle size & reflectivity requirements.
Flashing LED's provide an early "alert"
and demands drivers attention.• Support-Staff Minimizes Operator Fatigue
Operates in all weather: -40°F – +130°F
Requires C-Cell batteries 18"(3 batteries)
24" (4 batteries, sold separately)• Will operate continuously for many hours


FLAGGER HELPER PADDLES
STOP and SLOW sides are available in many reflective combinations for ALL Paddles.
• ABS Paddle and PVC Staff are lightweight, non-conductive and rugged.
• Support-Staff minimizes operator fatigue and increases visibility, improving operator safety.
• Protect your investment with a Sign-Velope™ Cover storage cover (sold separately)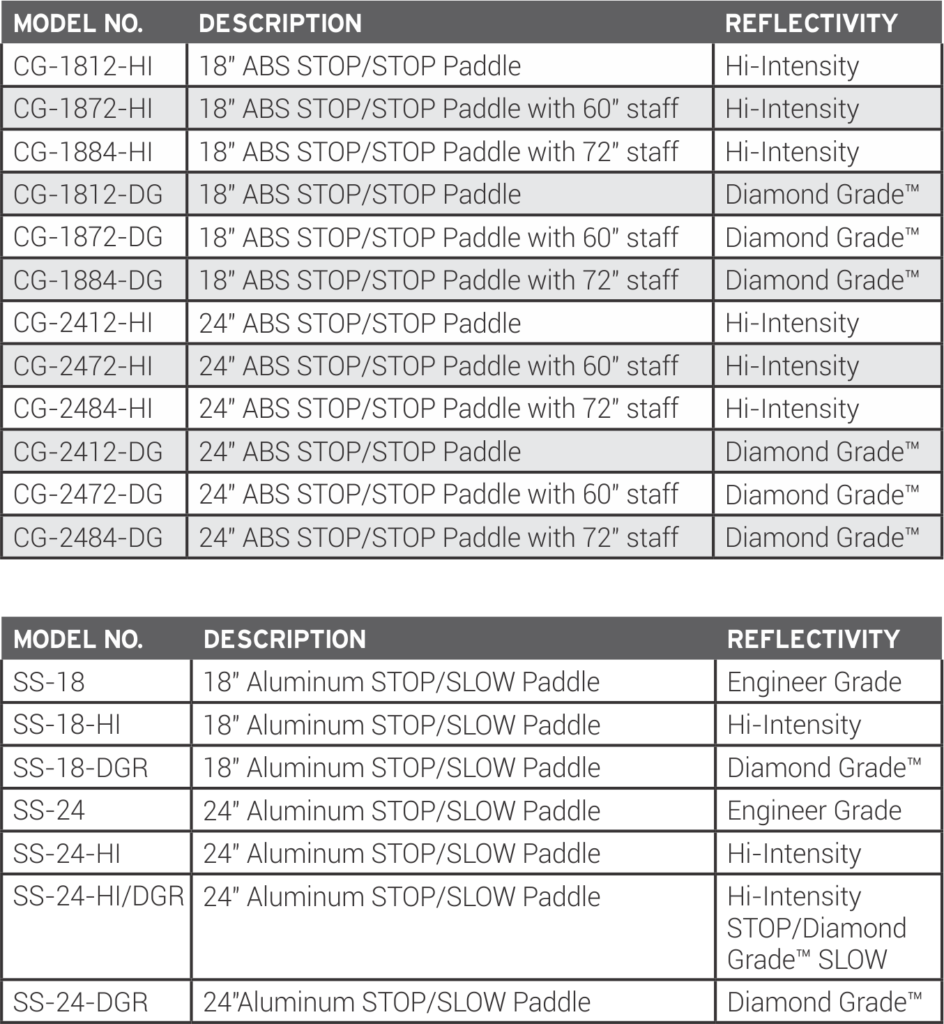 [/fusion_text][/fusion_builder_column][/fusion_builder_row][/fusion_builder_container]